The Minnesota Department of Agriculture (MDA) is warning residents about the dangers of poison hemlock (Conium maculatum), a toxic member of the carrot family. Residents should be on the lookout for the weed, take extra precautions when handling it, and not ingest any parts of the plant. It is currently in bloom in several parts of the state.
Poison hemlock can grow up to eight feet tall. The flowers are small and white with umbrella shaped clusters on the tops of stems. The stems are hairless and have purple blotches. The plants also emit an odor.
The flowers of poison hemlock look similar to wild carrot (Daucus carota) and water hemlock (Circuta maculata). However, the fern-like leaves and purple blotches on the stems of poison hemlock distinguish it from these related species.
All parts of poison hemlock (leaves, stem, flowers, and roots) are poisonous. If a person accidentally ingests poison hemlock, call Minnesota Poison Control immediately at 1-800-222-1222. You should call 911 right away if the individual is unresponsive or having trouble breathing. People have also reportedly been poisoned by handling the plants. Wear a long-sleeved shirt, long pants, and gloves to help avoid exposure. Contact your local veterinarian if an animal may have accidentally ingested poison hemlock.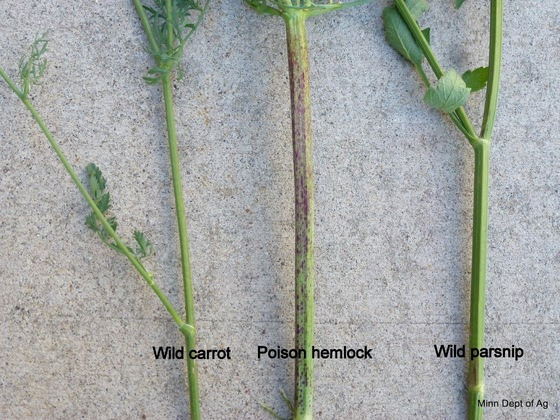 Purple blotches on the stems of poison hemlock distinguish it from wild carrot and wild parsnip.
The weed has been recorded in isolated pockets of Minnesota, most recently in the southeastern part of the state. It appears to be spreading quickly in the St. Charles and Lanesboro areas. However, poison hemlock may be growing elsewhere in Minnesota. If residents suspect they have found poison hemlock, take a picture of the plant and email it to arrest.the.pest@state.mn.us, or they should contact their local University of Minnesota Extension office.
Here's a video showing you the difference between wild carrot plants and poison hemlock:
More information and photos of poison hemlock can be found on the MDA website.